Trio linker plus 2 Playstation Gamecube Dreamcast Controller Adapter on PC PS3
Sorry, this item is out of stock
Brand NEW
Return Policy and Purchase Agreement. Important Please Read All.
International Customers(outside of USA) are responsible for any import taxes on purchases. Original shipping charge and 25% restocking fee applies to all returned or refused purchases due to non payment of Import duties.
All items are of the stated quality in the listing. They are heavily inspected. No items, or living creatures, will ship if they are not in listing stated quality. This can change while in the hands of the shipping carrier. Please contact me first in rare event of a problem.
Item being returned must be in the stated condition of the listing such as factory sealed, brand new, or quality shown in picture. Original Shipping cost is non refundable. Return shipping is buyers responsibility. A 25% Restocking fee will be deducted from price.
Live plants, shrimp, snails, fish and others in same category have same day, within 1 hour of delivery time, live arrival guarantee. I must be contacted within 1 hour of delivery tracking with several clear pictures sent through Ebay messaging.
Living creatures can die or be damaged during shipping transit from extreme cold or heat/sunlight. This can happen in few minute period, under the right circumstances.

For Video Games, Movies, and Books check out  Click Here
Ships from a smoke and pet free environment 
Main Features
1. Supports PS2™, GC™ and DC™ controllers on PC simultaneously.
2. Compatible with official PS2™, GC™, DC™ controllers and a majority of compatible controllers.
3. Supports Joy2key, Key Mapping and force feedback function. *
4. Supports Plug and Play.
5. 
Also supports PS2™, GC™ and DC™ controllers on PS3
™
 console.
 

note : i. PS3™ games are supported, but PS3™ firmware must be updated.

         ii. Some PS3

™ games would only recognize Sony official PS3

™ controllers.

              Any other non-official controllers or adaptors would not work on those games.

        iii. GC

™ / DC

™ joypads have less buttons then PS

2™ joypads, thus

             some buttons of 

PS2™/PS3

™ joypads are not supported.

 

   * function 3 is only workable with driver installed.

 #0603 Trio Linker Plus II Supports :

- 

DC TM Official Arcade Stick.                                             

- PS

TM

 steering wheel              

- 

DC TM Official Virtual On Stick – Twin Stick TM.                   

- GC

TM

 drums

-

 DC TM

 Official Steeling Wheel.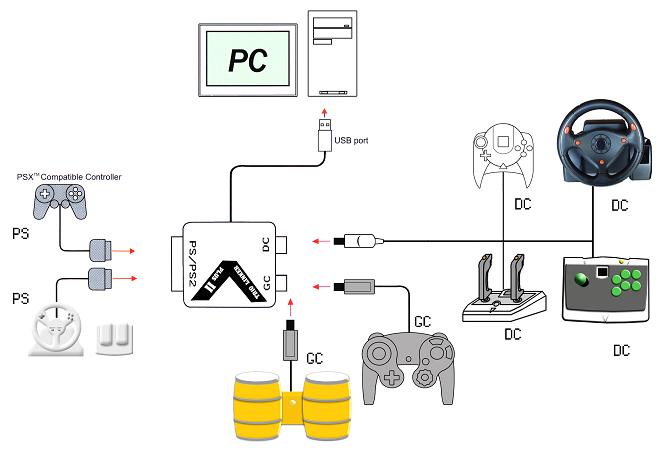 Note : 

PSX™ / GC™ / DC™

 

 dance mat is not supported.

________________________________________________________________________________________________

 

Installation procedure:

1. Double click the setup file (.exe) in the floppy disk to install the driver. If you don't have a floppy drive or if you have lost the floppy disk, please download it from.

2. Connect your PS2™ / GC™ / DC™ controllers to the adaptor, and then connect the adaptor to PC (USB port).

3. Go to "Control panel" --> "Game options", you could find one to three joypads inside, depends on how many joypads are connected to the adaptor. 

4. Right click the joypads shown in the game options and select "property", the driver interface would pop up. In which, you could configure the key mapping / joy2key / force feedback function.

Note:
1. It also works without the official driver, but you would then not able to use the key mapping /joy2key /force feedback function provided by the official driver.

2. If the PC could not detect the joypads or if it could only recognize an unknown device, please reconnect the adaptor or try another USB port. If it still doesn't work, please shut down the computer and then open it and try again. (not reboot, but turn OFF and turn ON)

3. Every time after you have connected a joypad to the adaptor, you should reconnect the adaptor to PC, such that the PC could detect the new plugged joypad.